Now we know how the press jury ranked our 25 Sanremo hopefuls I figured it was time to do the same. Was going to embed every live performance but realised in a week this would be a graveyard of dead links. You know where to find the performances…until Sunday. Thanks, RAI!
25. Tananai – Sesso occasionale – A song about casual sex performed by a guy who, based on last night, can't really sing.
24. Giovanni Truppi – Tuo padre, mia madre, Lucia – It would seem this lad was being paid by the word last night. All a bit too earnest for my taste
23. Yuman – Ora e qui – Perfectly fine but no stand-out moments one can recall.
22. Massimo Ranieri – Lettera al di là dal mare – I don't want to do down a legend like Massimo but it felt like this song was a reach too far on this occasion. Can see why the press jury still enjoyed it mind.
21. Matteo Romano – Virale – Young lad got a lot going for him but Virale is not what you'd call memorable. Valiant first attempt.
20. Highsnob & Hu – Abbi cura di te – It might be because it was so late in the running order and came straight after one of my faves but this did nothing for me. All just felt a wee tad too chilled for an entertainment extravaganza.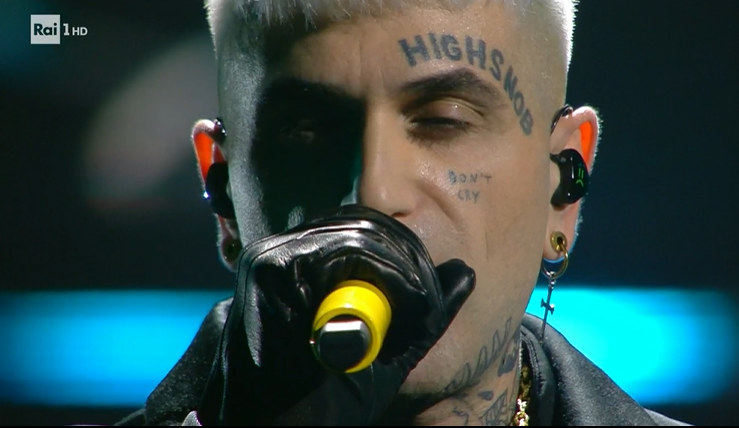 19. Ana Mena – Duecentomila ore – Last place overall felt super harsh on Ana Mena. It's a crackin' wee tune that could well become a summer belter. Unfortunately, Ana's live vocal lacked the required oomph to live up to the song's potential.
18. Iva Zanicchi – Voglio amarti – A classic overwraught Italian ballad. The crowd was vocal in their displeasure for her low ranking but it was probably a fair call. Her iconic dodging of the staircase of death, however, was legendary.
17. Sangiovanni – Farfalle – Perhaps somewhat unfairly placed as a show opener this failed to leave much of an impact. Potential to grow on me as the week goes on.
16. Giusy Ferreri – Miele – Just one of those things where I'm not a huge fan of Giusy's vocal. Loved her beguiling stage presence and the fun with the amplifier was a nice touch. Lots to like here.
15. Irama – Ovunque sarai – Decent tune but felt very little in terms of performance coming from Irama. Was all just a bit a pedestrian for me.
14. Achille Lauro feat. Harlem Gospel Choir – Domenica – I mean it's all about him really, isn't it? The vocal ain't there and the song's fine but Achille elevates it way beyond where it deserves to be. Still, the overall package ain't a winner.
13. Le Vibrazioni – Tantissimo – Oh come on, I was always going to rank Italian rock highly. This is far from the best example but even the mediocre stuff is still gosh darn good.
12. Rkomi – Insuperabile – Italy's answer to Andreas Johnson in terms of look and style brought accessible pop-rock to the stage much like the aforementioned Swede. Strong performance elevated an OK song to the next level.
11. Michele Bravi – Inverno dei fiori – I'll admit I spent most of the early moments of this lad's performance just admiring how beautiful he is. Cracking voice and performance, it was a solid entry all round. We're into the best ones now.
10. Fabrizio Moro – Sei tu – Man broods for three and a bit minutes. And it works. *swoons*
9. Mahmood & Blanco – Brividi – Reckon I'm the only person who watched on Tuesday night that wasn't fully sold by this. There's so, so much to admire about all aspects of this but the song just doesn't do it for me on an emotional level. Don't come for me angry mob!
8. Ditonellapiaga & Donatella Rettore – Chimica – A joyous camp delight! What's not to like!
7. Noemi – Ti amo non lo so dire – Noemi is an artist that always delivers at Sanremo and this year is no exception. She owned the stage on Tuesday night, looking and sounding resplendent. Can see this being elevated from the press jury's 12th place as the week goes on.
6. Elisa – O forse sei tu – It says a lot just how much I love the next five entries that somehow this has ended up in sixth. With Elisa's supreme vocal there's no surprise this ended top of the overall press jury vote.
#5. La Rappresentante di Lista – Ciao ciao – For the second year in a row LRDL has brought one of my favourite entries to Sanremo. This feels Eurovision ready: catchy song, exciting artist and fun performance. Could see this going top three on Saturday night.
4. Gianni Morandi – Apri tutte le porte – This is going to be a recurring theme over the next few songs but who the heck saw this coming. Was expecting an entry similar to Massimo's, instead, Gianni gave us an energetic bop that lit up Tuesday night. More of this sort of thing!
3. Dargen D'Amico – Dove si balla – Again…where did this come from? Over the last two years my favourites have been Ringo Starr and Combat Pop and this occupies a similar position. A fun, energetic ode to a love of dance makes me want to do exactly that. Delighted the press jury agreed!
2. Emma – Ogni volta è così – Why have one Italian Eurovision legend when you can rope in a second. Bringing Francesca Michielin was a masterstroke as this all female powerhouse team brought one of the outstanding entries in the competition. This felt like a real moment.
1. Aka7even – Perfetta così – WHERE DID THIS ONE COME FROM! With all the Sanremo and Eurovision royalty in the field, I was not expecting a newcomer to top my list. But if you're going to bring a well-executed anthemic indie almost pop-punk tune I'm going to sit up and pay attention. Already within the three minutes, this feels purpose-built for the Eurovision stage, just maybe not for Sanremo. If not for this year, Aka7even certainly feels like one to watch for the future.