Hey, turns out after a few months away I still remembered the login details to this thing! (Already lying, they're saved in the browser) My last post was back in early March when, despite the warnings, we were still fully intent on being in Rotterdam right now. If I was there my best guess is that I'd probably be frantically googling how to sell a kidney in order to afford Reykjavik 2021. Let's be honest, we all know who was winning this thing.
And yet, it was not to be. Where there was once blind hope, common sense prevailed and Rotterdam 2020 was no more. Tomorrow will be a tough day for Eurofans worldwide. We've had the fun tribute shows instead of the semis, the fantastic Newsbeat documentary, and tomorrow more content than you could shake a 2-metre long social distancing stick at. However, nothing will quite match up with the drama and tension of the live Contest. So I present to you an alternative strategy to make it through the day.
---
10:17: Treat yourself to a lie-in, no need to wake up early. Enjoy those blissful few seconds when you momentarily forget everything that's going on and it's just a chilled Saturday morning. As the reality sets in resist temptation for a drink this early on. Even a morning prosecco, however delicious, would set one back at this stage. Prepare a good brunch: carbs, fat, sugar and salt. Why not a stroopwaffel or 14? Pop on Love Shine a Light, have your first cry.
12:34: Enjoy a lengthy stare out of the window. Whatever you do don't think about how mad the Cleopatra staging would've been. Corona has denied the hottest of all hot messes. Try not to think about all things 2020 before eventually relenting, playing Fai Rumore, and wailing at the top of your voice. Have another good cry. Dab tears with Every Eurovision Result Ever tea towel. As well as being highly detailed with stats they're also very absorbent. And no, it's still all too early for that first drink.
---
14:17: Bloody hell, the afternoons don't half drag eh? Watch Serhat performing Say Na Na Na on repeat for 45 minutes. Think about setting up a Valentina Monetta shrine. Look into how much one of Jess & Jenny B's robots would cost. Just have some quality San Marino time to yourself. If your mind wanders and you accidentally remember the 2015 entry that will naturally lead to another cry.
16:02: Mate, it's close enough to 5pm. I think now would be a fair time to crack open your first drink. The best method to commune with your hard liquor can be found below. Oh, and please do remember to factor in time for yet another cry. Why not Insieme 1992 this time?
17:37: Settle in for Pointless Celebrities on BBC One. You have a Eurovision quiz show. With "Pointless" in the title. That requires couples to participate…and you DON'T invite Jemini? C'mon, it was right there! Now would be a good time to think about how Richard Osman would be a great host should we end up winning soon. If he can speak the necessary French, he'd be a shoo-in for the voting sequence. Do a cry when the winning couple doesn't choose your preferred topic for the final round. WHAT DO YOU MEAN YOU'RE NOT CHOOSING 90s SITCOMS!!!
---
18:30: Next up is Eurovision: Come Together. 20 songs will compete for the UK's Eurovision favourite…so that'll be Waterloo vs. Euphoria then? If the excellent Newsbeat documentary was anything to go by then we will hopefully get another insight into the lovely James Newman, and his equally lovely pet rabbits. More wholesome James content is just what we need in our lives right now. Cry at just how overwhelmingly cute those bunnies are.
And then prepare yourself as the clock strikes…
20:00: Te Deum will play, on a Saturday night, in May…and there's no Contest…
TEEEEEEEEEEEARS. Big Time.
The rest will follow. We'll be treated to a wonderful show resplendent with all our 2020 acts and plenty of familiar faces from the past. Given how fantastic the YouTube semis were, this should be on a whole new level. I for one am still very excited to see what they have in store. Straight after that Rylan will then take us through a Eurovision A-Z on BBC Two, by which point I will almost certainly be equal parts tears and alcohol. If the J is not for Jon Ola Sand, I will riot.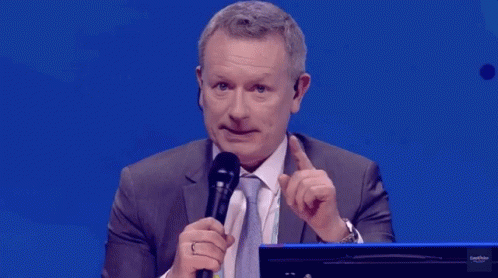 And then that's it. The clock will reset, the 2021 rumour mill will kick into gear and plans will be put in place to make sure we get some kind of Contest next year. I hope we can all meet at some point soon but for now stay safe, wash your hands and stream Cicciolina. I think that's the official government advise.